Clara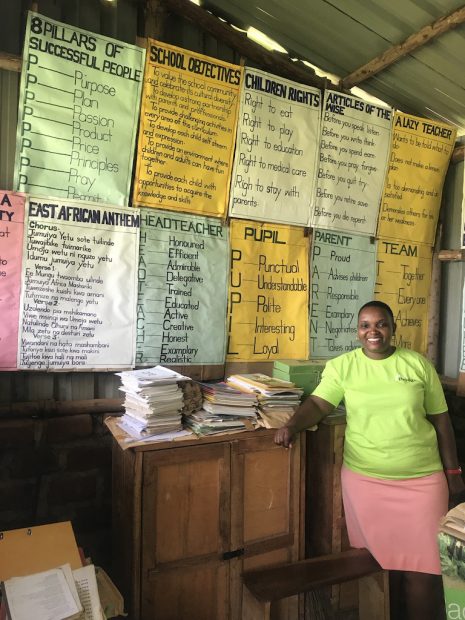 Meet Clara, the amazing Head Teacher at Bridge ,Ttula! Clara has been in the position for about a year now, and is taking great pride in making her school a fun and engaging place to be. Her office is filled with posters that she has created and that describe the culture of her school.
Clara has a clear passion for education—one that started before she joined Bridge: "I have a degree in education from Makere University. I learned about Bridge through its website and decided to apply for the Head Teacher position. I remember applying to Bridge and there were hundreds of applicants! When I had my interview I'll never forget when the Bridge Country Director told me I was one of the best candidates," she shares with pride.
"I really loved the Bridge training—it taught me so much! It not only taught me about Bridge education and how to use the technology but it also taught me how to be focused and to engage with people. As a the head of the school, you have to work with so many people—teachers, parents, pupils, community leaders, and Bridge support staff. You have to know how to communicate well!"
Clara has put this training to good use! She is very supportive of her staff, and is determined to help them become better teachers. "One thing I now know how to do is to carry out short and long teacher observations. I never knew how to do that before! Now I know how to go in to a classroom, observe the lesson and give the teachers feedback."
She has made lots of improvements since taking up the position. She concludes: "Each term we're getting stronger. Last year I had a calendar made to celebrate my students who were top in class. This year we will be working with the PTA to create a sports field for co-curricular activities. We want to raise money to support building two goal posts so that the children can play and we can have competitions with other schools." Keep up the great work Clara!