Patience Akello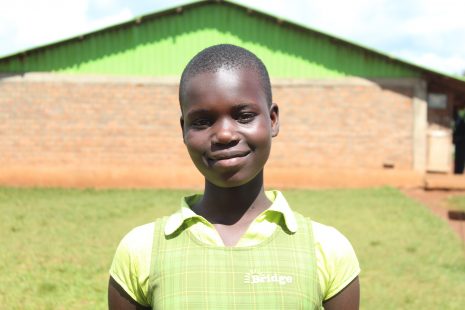 Meet Patience Akello, a 13-year-old pupil at Bridge, Magamaga. She is currently in Primary 7 and has been at Bridge for three years.
Patience joined Bridge because she always walked long distances to attend lessons at her former school and wasn't learning as much as she'd have liked to. It's not a surprise that since joining Bridge, she is happier about her studies. "Bridge has helped me to speak and write English better," she says.
The best thing about going to school for Patience, is that it provides children with the opportunity to achieve their future goals. "You can't become a doctor without going to school," she declares.
At school, she is a girl of many responsibilities. Patience is a Head Prefect and her role is to counsel her fellow pupils and ensure that all classrooms are clean and in order whenever the teachers are out.
Her favourite subject is social studies and she wants to become a lecturer in the future. "I would love to teach and train professionals who will serve the country in different ways," she says.
She believes Bridge has changed her life and improved her studies. "I was struggling in mathematics when I came in but now I can easily score a distinction," smiles Patience.
She concludes, "Bridge provides learning materials in plenty, the teachers are experienced and loving. The school environment is the best for learning."