Samantha Harono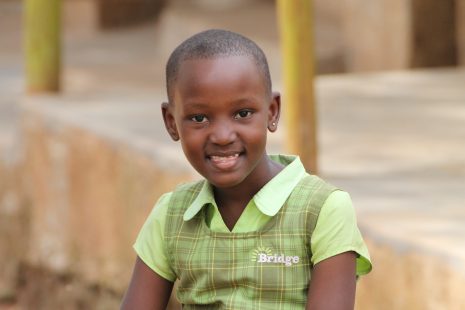 Eight-year-old Samantha is in Primary 3 at Bridge, Nakuwade. Tabitha, her mother owns a small store and her father, Moses is a taxi driver.
Samantha is the talk of the school. Her friends call her 'Teacher Samantha' because of her dedication to helping her friends learn. She's clearly inspired by her teacher, Nakato Topister, who teaches Samantha and her friends English. "She teaches well," Samantha says, "She makes sure that we have all understood." When it comes to learning, Samantha makes sure she always understands the lesson herself first, before then helping any friends who are struggling. "I want to be a teacher when I grow up," she beams. It sounds like she was definitely born to be one!
Samantha's own teacher is very impressed by her commitment at school. "Samantha is a very brilliant girl, she always amazes me," she says, "She is the best at spelling. Mention any word and she will spell it." We wish Samantha the best of luck! A Bridge teacher in the making.