Swabula Nabwire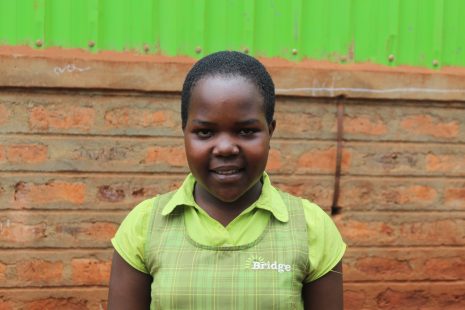 Swabula Nabwire is a 12-year-old pupil at Bridge, Mafubira. She is currently in Primary 7 and has been at Bridge since 2016.
One of the best things about going to school for Nabwire is that she's acquired an education which she believes will be helpful in shaping her future.
She joined Bridge on instinct, hoping that it would be a great school and claims, "I wasn't disappointed." She now smiles and says, "Bridge has helped me to learn many new things and speak good English."
Nabwire lives with both her mother and father, who are farmers. She has responsibilities at home, including ensuring that utensils are clean, mopping the house and fetching water.
Her responsibility at school is to represent her class as an Ambassador. She has a passion for helping others and wants to become a doctor one day.
"Bridge has learning resources that help us to learn well and great teachers who are friendly and caring," she says.