Rebecca Akankwasa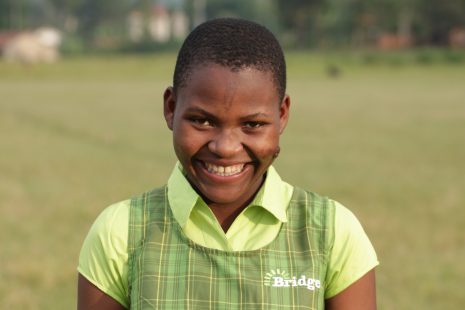 Fourteen-year-old Rebecca goes to Bridge, Nsumbi in Kampala, Uganda's capital city. She loves Bridge because, she says: "we get to use technology and have lots of books, this is not common in other schools." She lives at home with her father as sadly her mother died when she was younger; her community is kind to her family, and share things when someone is in need.
The biggest problem Rebecca sees in her community is lots of young girls who get pregnant too early, she says: "There is no education so they're not even literate which means they have babies early." At school she has a big responsibility as the Class Prefect and enjoys playing netball—she'd like to play for the 'She Cranes' (Uganda's women's netball team) one day. 
Her best subject is Science because she loves to hear explanations about the world around her. When she grows up she hopes to become a doctor and treat the sick people who are otherwise unable to get help.
She's improved a lot in her academics since joining Bridge. She says: "Now my English is excellent, I would have never even dreamed of this before."