Reflections on the 2022 PLE Examinations, as Bridge Schools continue to surpass the national performance
The dust is settling on last week's release of the 2022 Primary Leaving Examinations (PLE) results. At Bridge Schools, we are starting the new school year with verve, having outperformed the national PLE average for the fifth consecutive time. This has been the trend since the first Bridge pupils sat for the PLE in 2017.
In the results released by the Ministry of Education and Sports on 27 January 2023, seven pupils from Bridge Schools attained Division 1.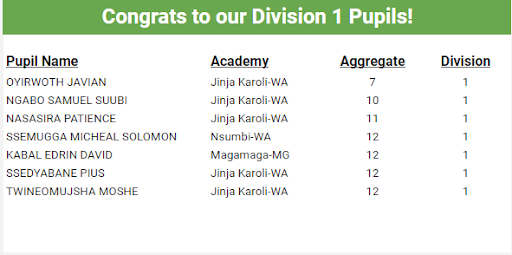 An analysis of the PLE results further showed that attending a Bridge school made pupils more likely to score Division 2 or above. It also made it much less likely for candidates to score below Division 3, as illustrated in the graph below:

One of the top-performing Bridge Schools, Jinja Karoli, achieved an aggregate score of 20 with Division 2 and a 94% pass rate among 34 candidates.
Moreover, attending a Bridge School by far increases the chances of a pupil passing the PLE examinations, set at scoring at least Division 4. In the 2022 PLE exams, 93% of Bridge candidates scored Division 4 and above, placing ahead of the national average of 88%. 

The plight of the girl child remains a pressing concern in Uganda and many other parts of the developing world. The 2022 PLE results confirmed Bridge's culture of gender parity, showing that girls and boys achieve similar scores regardless of how long they have attended a Bridge School, confirming a key finding of an independent study on the Bridge methodology, led by the Nobel Prize-winning economist, Professor Michael Kremer.
The study found that girls in Bridge Schools make the same leap in learning as boys, regardless of how long they have attended a Bridge school.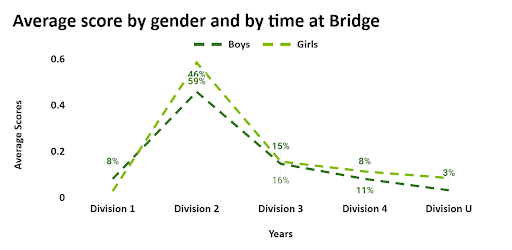 This entrenched record of gender parity is a key point of pride within Bridge Schools.  
It is also an important source of motivation for our teachers, for as former Malawian President Joyce Banda famously said, "The seeds of success in every nation on earth are best planted in women and children."