Uganda PLE results 2022: Bridge pupils post exemplary results for the fifth consecutive year
Students from Bridge schools have outperformed the national average in the Primary Leaving Exam (PLE) for the fifth year running. In the 2022 PLE exam results released by the Ministry of Education and Sports on 27 January 2023, 7 pupils from Bridge schools attained achieved the much-coveted Division 1 category. The following are the Bridge pupils who attained Division 1:
1. Javian Oyirwoth – aggregate of 7 – Bridge School, Jinja Karoli
2. Samuel Suubi – aggregate of 10 – Bridge School, Jinja Karoli
3. Nasasira Patience –aggregate of 11 – Bridge School, Jinja Karoli 
4. Michael Solomon –aggregate of 12 – Bridge School, Nsumbi
5. David Edrin –aggregate of 12 – Bridge School, Magamaga
6. Pius Ssedyabane –aggregate of 12 – Bridge School, Jinja Karoli 
7. Moshe Twineomujsha –aggregate of 12 – Bridge School, Jinja Karoli 
Despite coming from some of the lowest-income communities in Uganda, these pupils have proved that whatever the background of our pupils, they can excel with a quality Bridge Uganda education. 
Performance in the PLE results determines the standard of secondary school a child will join. The good performance makes them more likely to transition to good secondary Schools in Uganda such as Nabisunsa Girls School, Tororo Girls School, and Busoga College, Mwiri among others. 
Bridge Uganda's top performing boy Javian Oyirwoth, is a 15-year-old boy from Hoima who has studied at Bridge School Yesu Amala for 5 years. Javian has scored Division 1 with an aggregate of 7 points! He was thrilled when he received the results and credits his success to Bridge teachers, who he says have been very supportive.
"Before joining Bridge my performance was subpar. But thankfully, Bridge teachers held my hand every step of the way, and through their hard work and support, I realized that my potential was greater than my fears," he said.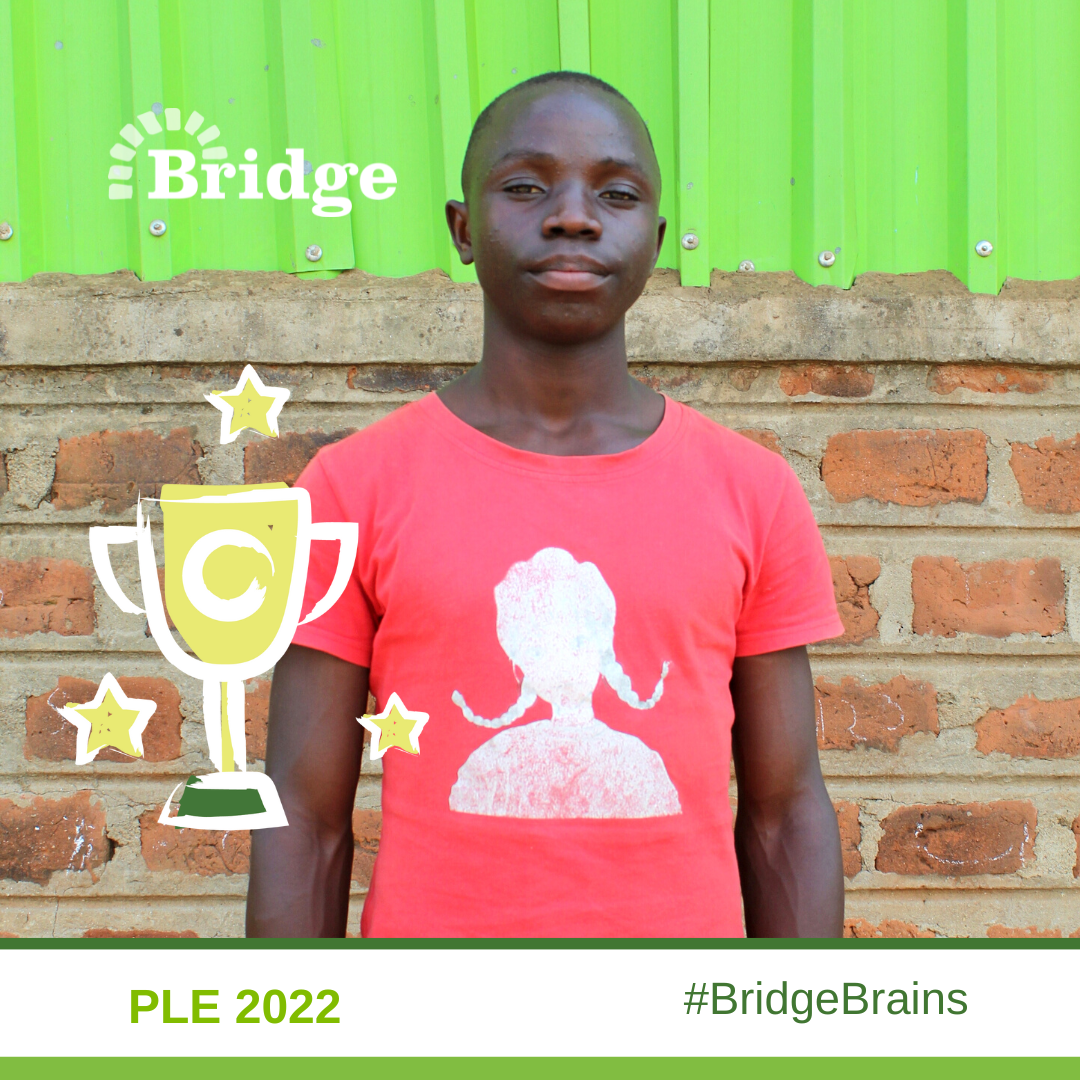 Javian is now hopeful that he will join his dream secondary school Merryland High School in a few weeks.
On the other hand, Bridge Uganda's best-performing girl Nasasira Patience is a 14-year-old girl from Bombo in Buganda County, She has been a pupil at Bridge Jinja Karoli for 2 years. She scored Division 1 with an exemplary aggregate of 11.
When asked about her secret to success, this is what the intelligent girl said:
"I do not really have a secret, but the one thing I credit my success to is the Bridge teaching approach, which focuses on empowering every child. The teachers are dedicated to their work, and behind every successful pupil is a teacher who gave their all. And most definitely, hard work and prayer. "
Following her good performance, Nasasira feels closer to achieving her dream of joining King's College Budo and subsequently studying Law at the university. 
Samuel Suubi our third best-performing pupil, is a 12-year-old boy from Namasibi in Buganda County and attended Bridge School Jinja Karoli for 5 years. He credits his Division 1 score of 10 to hard work and support from excellent teachers and friends. 
"At Bridge, I found a family. The teachers not only cared about our academic performance but our emotional well-being as well. They understood that if a child was emotionally disturbed, then their performance would suffer," he said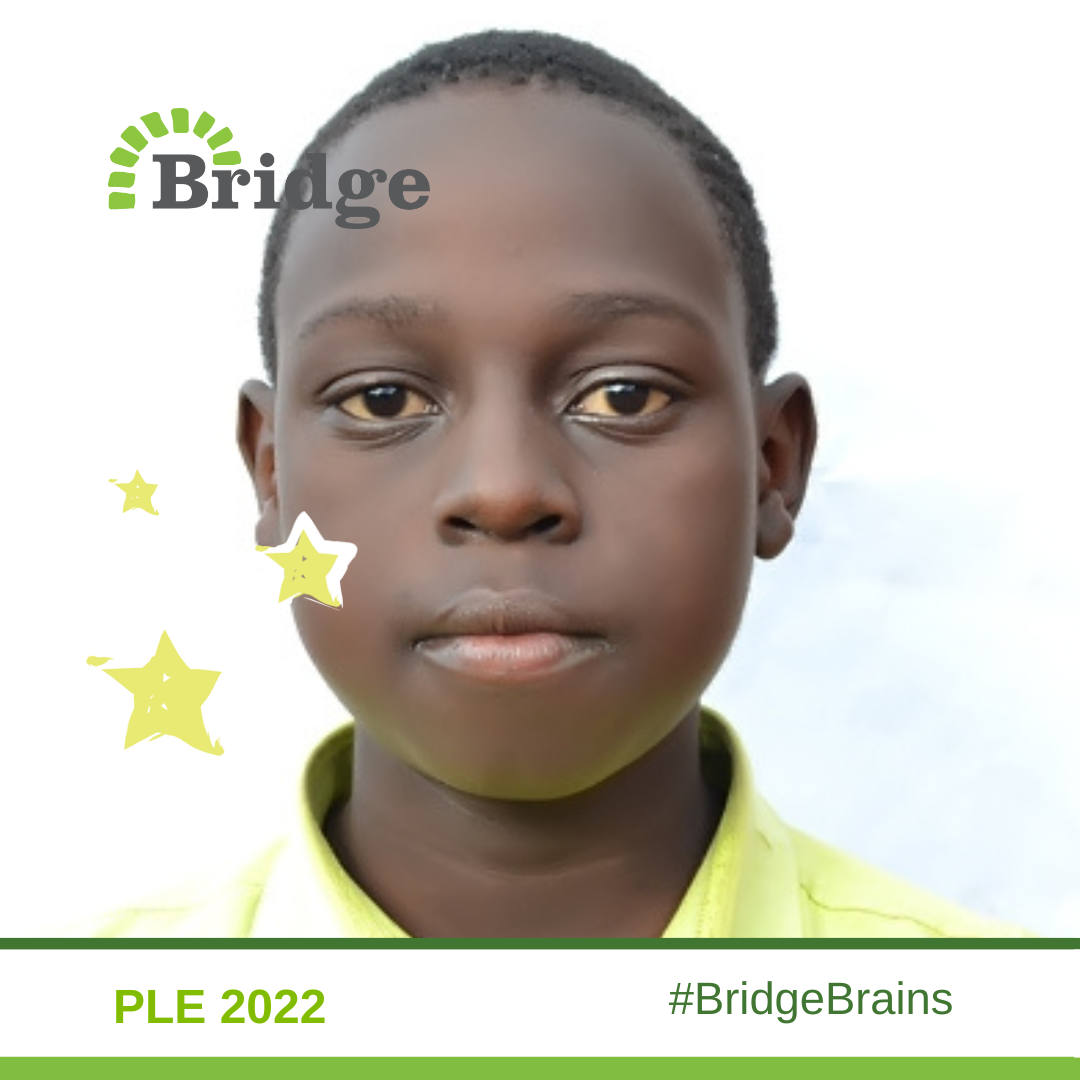 Samuel is now confident there is a high chance for him to join his dream school, Mengo Senior School, and get a step closer to achieving his dream of becoming a doctor. 
The 2022 PLE results show that the length of time a child spends in a Bridge school has a significant impact on their performance. Pupils who have been at Bridge for four or more years emerged among the top performers in the country by achieving marks in the highest 2 divisions.
14-year-old Michael Solomon is another high achiever from Kaburenga Village in Buganda County who is among the top performers in the country, having scored a Division 1 with an aggregate of 12 points. He credits his success to the support he received from his teachers at Bridge and his parents.
"I am excited because I have made my parents proud. They have always been my number one fans. They believed in me even more than I believed in myself. My teachers also offered a great support system. They pushed me to achieve way beyond my capabilities. I will forever be indebted to them," he says. 
He wants to join Mengo Senior School to kickstart his journey of pursuing his dream of becoming an electrical engineer.
David Edrin who has been a pupil at Bridge Magamaga for more than 5 years scored a Division 1 with an aggregate of 12 points. He is grateful to Bridge as a whole for bringing quality yet affordable education to his community.
"Most schools that offer quality education are expensive and my parents cannot afford them. When we found out about Bridge, I knew my chances of performing well and joining my dream Lubiri Secondary School had increased. Today I am excited to have performed well because I am a step closer to breaking the cycle of poverty in my family," he says. 
The results show that the length of time a child spends in a Bridge school has a significant impact on their performance. Pupils who have been at Bridge for four or more years emerged among the top performers in the country by achieving marks in the highest 2 divisions.
Bridge Uganda teachers are equally proud of these exam results and have been celebrating the achievements of their pupils. The results are a testament to the strength and commitment of Bridge Uganda teachers, pupils, and parents.
Commenting on the results, John Aluba, the Bridge Uganda Director of Schools, said: 
"Seeing how well our pupils performed in the PLE 2022 exams—despite schools having closed for almost two years due to the COVID-19 pandemic—is a testament that the Bridge teaching approach works. This is the fifth year Bridge Uganda pupils have excelled. We are inspired and motivated to work even harder to ensure that every child gets access to a quality education because these children are our future. When they win, we all win."
Griffin Asigo, the Managing Director for Bridge Kenya and Uganda, said that the exceptional results of these pupils affirm the findings of an independent 2022 research study led by the Nobel Prize-winning Economist, Professor Michael Kremer, which suggests that children attending Bridge-supported schools receive 53% more learning than their peers in other schools. For instance, pupils in Bridge-supported schools master in two years the equivalent of what it takes pupils in other schools to learn in three years.
"We are excited because these results mean that Bridge has impacted the lives of these children in different ways. We have paved a way for their future. Bridge believes every child has the right to high-quality education and works in partnership with the government, communities, parents, and teachers to run or support schools in Uganda." Mr. Asigo said.
Bridge Uganda opened its doors in 2015. Since then, its affordable community school programme has continued to deliver a life-changing education that transforms lives, opening doors to a successful future for many children in the country. Bridge uses Uganda's Universal Primary Education (UPE) system and goes the extra mile by leveraging technology and in-depth teacher training and support to deliver meaningful and life-changing education to its pupils.
Globally, there is an education crisis. Around 260 million children and young people are not in school, while around 600 million who are in school are not learning effectively. Bridge is committed to helping tackle this through a data-driven, evidence-based approach that delivers strong schools and a great education for all. 
P.S.
If you would like to enquire about enrolling your child at a Bridge school, call 0800 234 000 (toll-free) or click here.